When you live and work in a busy city like Washington, D.C., having a place to unwind and fully relax is essential. That's why bathrooms are such an important part of our homes. Not only is it the spot where you get ready to tackle the day, but the bathroom is also where you prepare for a night out, wind down after work, and get ready for bed. So why not make it a serene, spa-like space?
Upgrading your primary bathroom suite to make it more like a luxurious spa oasis will not only enhance your mental and physical well-being, but it can also make your home more appealing to potential buyers and with the right upgrades, can even raise the value of your home when it's time to sell.
For example, this home for sale in Northern Virginia has four bathrooms including this luxurious primary ensuite bathroom (pictured above). Turn one of the five bedrooms or the finished basement into a meditation or yoga space and you are well on your way to spa bliss without ever having to leave your home.
Meanwhile, this luxury one-bedroom, plus den condo for sale in downtown Washington, D.C. has two fully updated bathrooms and a newly reduced price. Wrap up a workout session at the on-site gym by relaxing in the gorgeous, spa-like steam shower in the primary ensuite bathroom.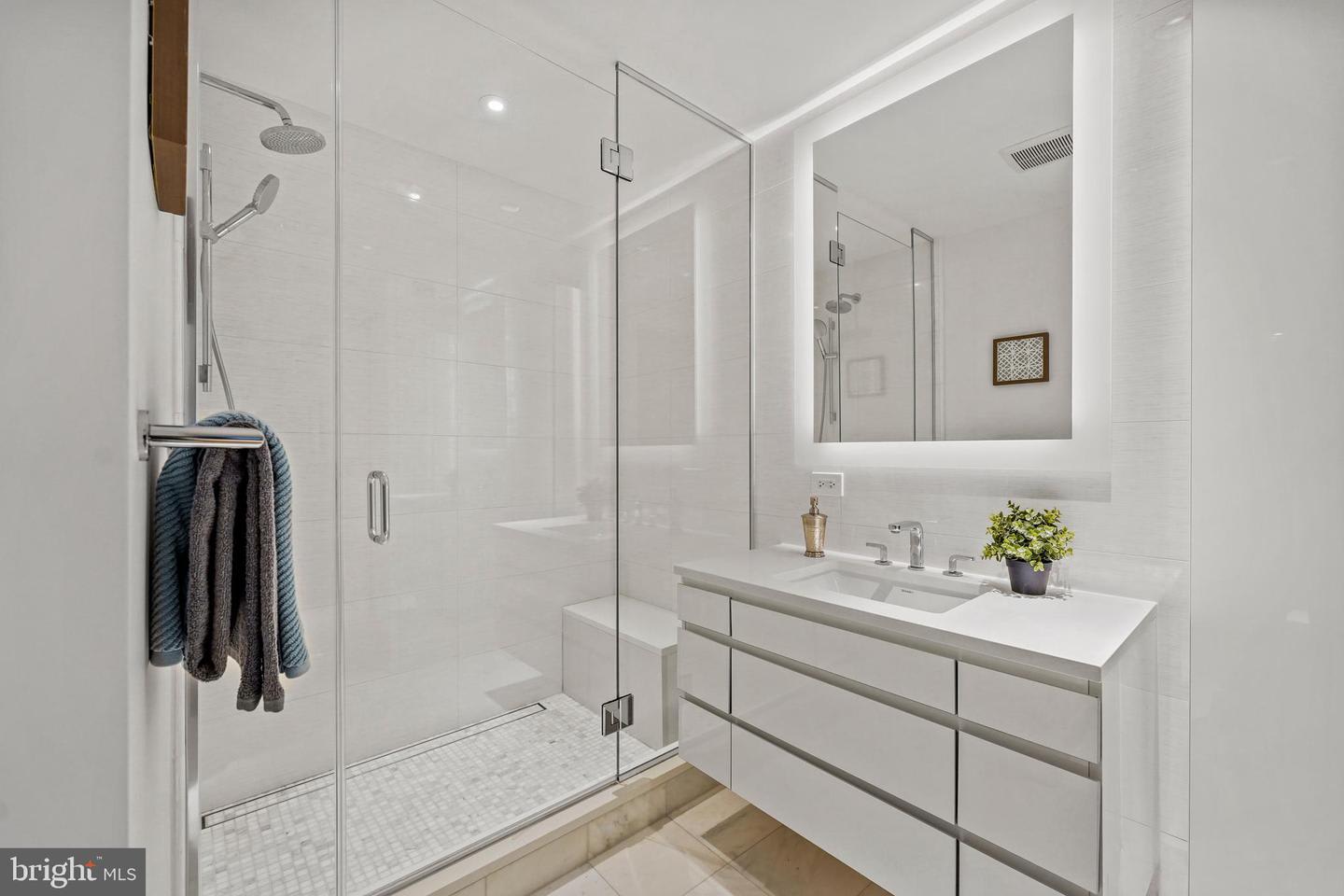 If you are constantly dreaming about getting away to a spa hotel, it's time to indulge in your own spa-bathroom upgrade at home.
Here are a few tips to create a spa-like bathroom in your home.
Lighting: Like any other room in your home, lighting can play a key part in the overall mood of your bathroom. This is particularly true if the bathroom doesn't get a lot of natural light. Create a cozy, intimate space by picking out sophisticated, unique lighting fixtures, such as decorative wall sconces on both sides of your mirror or a chandelier over the bathtub. For extra ambiance, add dimmer switches.
Aromatherapy: Infusing your bathroom with gorgeous fragrances is the quickest and easiest way to achieve a spa-like vibe. Candles, oil diffusers, aromatic bath bombs and bath oils, and room sprays in lavender or neroli can fill the room with calming scents. Or, tie a sprig of fresh eucalyptus to your shower head, where it will be misted but not soaked by the water. The steam will help release the plant's relaxing scent.
Incorporate Nature: One of the key design signatures of any spa is bringing in elements of nature. Use natural wood for your bathroom walls or stone flooring tiles. Add a wood stool or shower bench, bathtub caddy, or soap holder to bring an additional earthy material into the room. Or keep your oversized spa towels in a woven basket near the shower or tub. Bring in plants that handle humidity such as bamboo or aloe vera.
Upgrade the Showerhead: Installing a luxurious showerhead with different settings is an instant spa-like upgrade. A range of showerheads on the market with multiple settings ranging from a light soothing stream to more direct, massage-like pressure.
Storage: One thing you won't see in a spa is clutter. Keep your bathroom/spa clutter-free by making sure everything is organized, tucked away, and out of sight. Decorative lidded baskets for extra toilet paper and soap or glass storage jars for bath salts and cotton balls can all be organized and displayed on open shelving alongside towels like a spa boutique.
Soaking Tubs: It may seem like a splurge in terms of space, but having a bathtub to soak in is the ultimate in luxury and relaxation. There are a variety of shapes, sizes, and materials out there to choose from: everything from deep 39-40-inch oval soaking tubs (ideal for tight spaces) to huge 79-inch freestanding tubs that can fit four people.
Heated Floors: When DC-area temperatures drop (which they definitely do), having a heated floor is the ultimate spa-like luxury. But even if heated floors are not in your budget, consider adding a towel warmer to heat towels and robes and lots of soft, cozy rugs and runners to cover those frigid floors.
Your Secret Sanctuary Achieved
Turning your bathroom into a spa-like retreat can be achieved by taking some design cues from your favorite spa retreat and injecting some tranquil style into your space with some of these tips and ideas.
But if you are ready to trade in your current bathroom for a major upgrade (and a whole new house), contact Fleur or Veronique to find your perfect home…and bathroom.