The Washington, D.C. area real estate market is nothing if not competitive, for both buyers and renters. Whether you are new to the D.C. metro area, are an existing renter or are a homeowner thinking about downsizing, you might be wondering: Is it better to rent or buy a home in Washington, D.C.?
Buying a Home in the Washington, D.C. Area
From a financial standpoint, buying a home is a good long-term investment. Yes, buying a home does come with some upfront costs, like a down payment, closing costs, and ongoing maintenance expenses.
But owning a home also allows you to build equity and end up with an appreciable, resaleable, potentially valuable asset. Plus, homeownership has tax benefits, including mortgage interest deductions, which can reduce your tax bill by thousands of dollars.
You also have more control (and responsibility) over your property and can make any improvements or renovations you see fit. As a renter, you can't really make changes to the property without risking your security deposit.
Finally, owning a home provides more privacy, stability, and a sense of belonging to a community and neighborhood. On the flip side, owning a home means you have less flexibility when relocating for a job or other reasons. You'll have to sell or rent your home out if you choose to live elsewhere.
Renting a Home in the Washington, D.C. Area
Financially, renting a home requires much lower upfront and maintenance costs. Renting usually requires a security deposit, any pet deposits, and the first month's rent, but maintenance and repair costs are the responsibility of the landlord or homeowner.
Renting a home also allows for more flexibility. You can move when your lease is up or when you get a new job opportunity in another city or state. Renters are also not exposed to the risks of the real estate market such as property value fluctuations.
In addition, enters are usually not able to make changes to the property, or have to ask the landlord for permission. Most importantly, renters also don't build equity in the property, so they don't get the tax benefits or the property appreciation that a homeowner gets.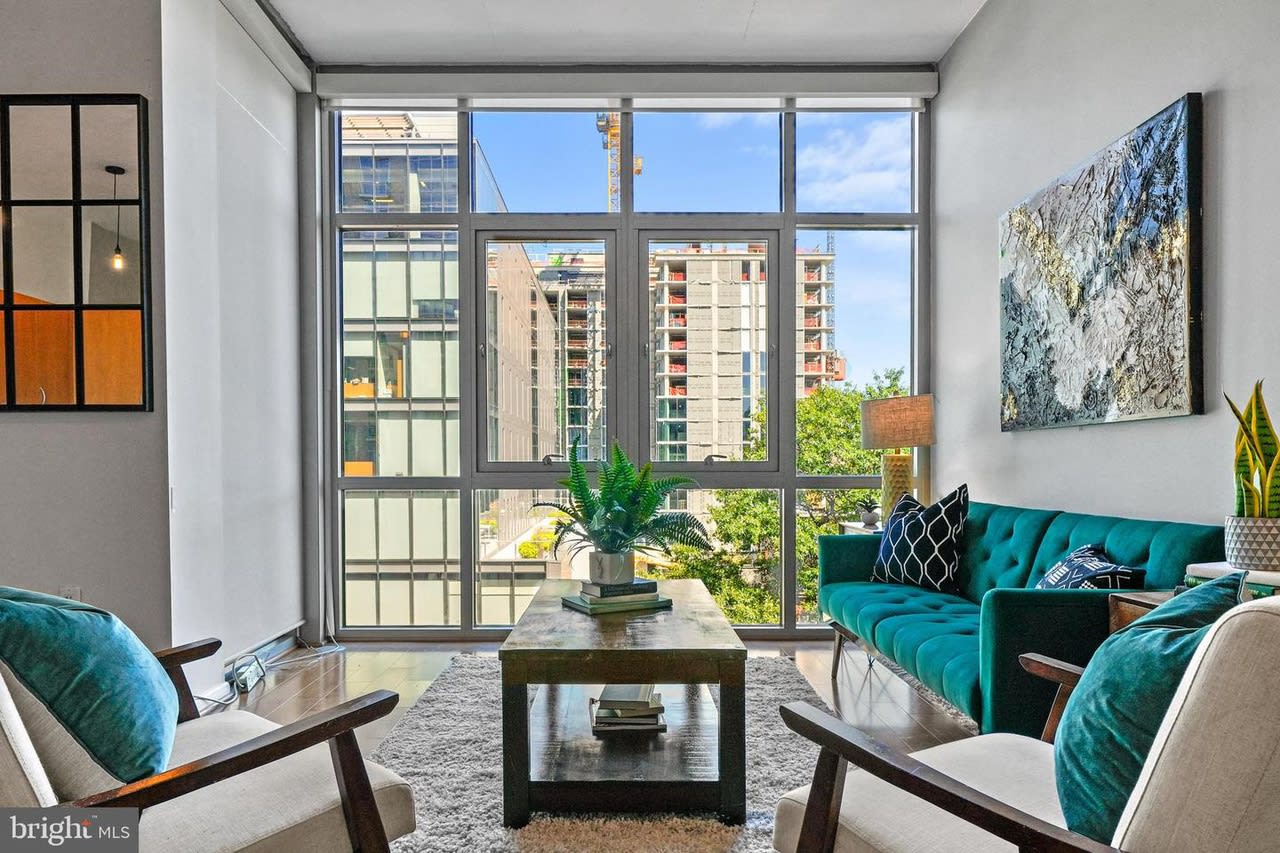 Crunching Some Numbers
Right now, the average rent for a 746-square-foot apartment in Washington D.C. is $2,401, plus the additional cost of utilities and renter's insurance.
Keep in mind that a landlord or management company can raise the rent on a property at any time. In fact, D.C. rents have already increased by 5.2% in the first nine months of 2023 and increased by 6.1% over the same period in 2022. Depending on how long you stay in a rental property in Washington, D.C., it can be more expensive to rent over the long run.
Meanwhile, we have a gorgeous 1-bedroom, 1-bath, 721-square-foot condo listing in Mount Vernon Triangle area for $494,000 (pictured above). A buyer with a good or excellent credit score and a 10% down payment would have an estimated monthly payment of $2,978 on a 30-year mortgage with a 7.25% mortgage rate, including insurance and monthly property taxes. (We used the handy mortgage calculator from our friends, DC Condo Boutique).
Best of all, that monthly payment won't change…unless the homebuyer refinances when interest rates do eventually go down. So, for just a slightly higher average monthly payment than a renter pays, a homebuyer will be building equity on a fantastic property in a highly desirable neighborhood. Plus, the homebuyer would have a mortgage interest deduction come tax time.
D.C.-metro renters—if home ownership is your long-term financial and personal goal (and we think it should be!) —take smart steps now to be in a position to buy a home as soon as you're able. Read our best tips on saving up for your first home in the Washington, D.C. area.
And, of course, contact Fleur or Veronique to talk about your options. We can help you navigate the housing market, guide you through your financial options, and negotiate the best deal possible.